We are part of a growing ecosystem
The challenge of improving employee health can only be solved when players from the healthcare, insurance, technology and consumer goods industries collaborate with employers to make healthy living easy.
We realized that alone, we can only do so much. By partnering with banks, telcos and other distributors, we multiply our ability to enrich lives by offering our solutions to their enterprise customers. We are building an ecosystem of healthcare enablers and rewriting the way companies improve their employees' health.
If you share our aim of improving employees' health across Asia, come and speak to us today.
Multinational Banking And Financial Services Group Collaborates With CXA In Singapore
A multinational banking group headquartered in Singapore was keen to provide digital health and wellness services to its corporate and retail customers. The bank worked closely with CXA to scope the intended products, services, and capabilities, while CXA built the technology required to implement the bank's vision.
Providing support to residents in Singapore in midst of the COVID-19 pandemic
The bank launched the new health and wellness mobile app in June 2020 in Singapore, just as the country was recovering from its largest wave of COVID-19 infections. The collaboration allowed the bank to diversify its product offerings, and provide residents a way to access essential medical services in the safety and comfort of their own homes. The bank intends to deepen its partnership with CXA by bundling the app with its existing suite of services, to better serve its 200,000-strong SME client base in Singapore, and eventually the rest of Southeast Asia.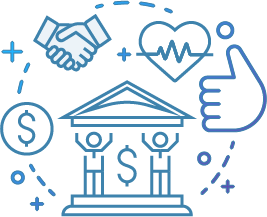 CXA Tech Used By One Of The Largest Banking Groups In Hong Kong
A large global bank owned insurer looking to establish its own 'next-generation' group employee benefits insurance platform in Hong Kong by leveraging CXA's health and wellness platform, connected seamlessly to insurer's policy administration system, to deliver a unified digital experience to its own employees and corporate customers. Over time, the platform is expected to promote personalized and relevant insurance products and services to its customers and their employees.
Result
In collaboration with CXA, the insurer successfully launched a custom version of CXA's platform to its group ~60,000 employees and dependents in Hong Kong in December 2020 with the corporate customer release in January 2021 with tremendous engagement with ~90% active users shortly after launch.
Seagate China Case Study
CXA worked with Seagate China, a leading semi-conductor company, to roll out a digital worksite marketing program to its 6,300 employees across 10 locations in China.
After months of planning and development, the Seagate New Health Program was launched. This gave employees access to a wellness account which they could use to select and pay for specially designed voluntary insurance and health screening plans.
The worksite insurance product covered hospitalization expenses and additional hospitalization coverage in case of critical illness, which is complementary to the medical plan provided by employers.

CONVERSION RATE ON A CRITICAL
ILLNESS HOSPITALISATION PROGRAM.

EMPLOYEES MADE PAYMENT
DIRECTLY FROM THEIR eWALLETS
OR VIA CREDIT CARD
DIGITAL MEDIA WAS USED
TO COMMUNICATE BENEFITS
TO EMPLOYEES.

AN ONSITE CUSTOMER
SERVICE BOOTH ANSWERED
EMPLOYEE'S ENQUIRES.

USER FRIENDLY MOBILE PORTALS
MADE IT EASIER FOR FACTORY
EMPLOYEES TO ENROLL.
"In the HR world, much about voluntary worksite programs are discussed, but actually seeing it happen digitally, deploying bespoke insurtech, to reach to our 6,300-strong employee base and their dependents is a breakthrough. We are very proud of the result – that 30% of our staff voluntarily signed up, and thank CXA for helping us make this happen."
---
"We are happy that our employer gave us an eWallet to choose and pay for insurance and health programs so that we can understand our health better and change our habits so we can get healthier. Also the insurance plan is affordable"
"We have built the CXA platform ... one that people could use every single day – and making it available through banks to SME employers and employees, our ambition is also to help the banks serve more personalised bancassurance offerings that individuals need and want in their personal lives, at precisely the right moment"
-Rosaline Koo