One-stop flexible benefits and wellness marketplace for everybody.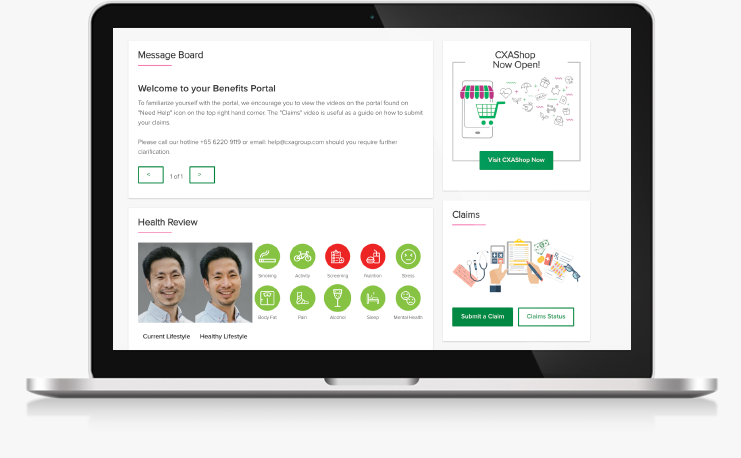 INCENTIVES FOR EVERY INDIVIDUAL
Welcome to CXA, Asia's award winning AI-powered health and wellness eco-system, designed to enable modern, diverse companies to manage costs by shifting spend from treatment to prevention.
CXA's digital platform enables HR teams to connect employees with relevant employee benefits insurance health, wellness and wealth providers to create bespoke benefits packages and incentives. It can also be white-labelled by insurers, banks, telcos, payroll firms, etc for their existing clientele.
The power of one. For all.
CXA is a single, integrated digital platform that can be selectively and securely accessed by employees, HR and management via customisable dashboards. Together with CXA's broking and benefits consultancy services, our unique wellness eco-system guides employees under our care by providing health risk assessments, flexible benefits selections, health education and a wide range of curated wellness solutions on our marketplace, where we have negotiated discounts so that their flex dollars go further.
Choose a healthy change for the better
We're focused on wellness and prevention for your people, not just insurance and treatments. Your people are in control of their insurance benefits without HR spending more. Using their customised CXA app, they can answer simple lifestyle questions to age their faces. They can also find everything from their nearest yoga class to latest health food trends. The cashless eWallet makes transactions fast and easy. You and your people are more in control than ever before. Feel motivated to change.
Real data. Real insights. Real value.
We also digitised health and life-stage data to personalise recommendations for people to get healthier and be covered, just in case. No more one-size-fits-all. Plug in modular tools, get quotes, process claims, and make payments. Track trends, analyse spending, calculate ROI, and plan with the accuracy only data can give. You'll lower claims cost without reducing value to your people. And did we mention there's no paperwork?